Discover a unique suite of tools to easily manage your complex.
Cover all your needs with a single solution: manage your reservations, retain your customers, animate your community, invoice and collect easily.
Multi-activity management software
which facilitates the daily life of the complexes
sports & leisure

Learn more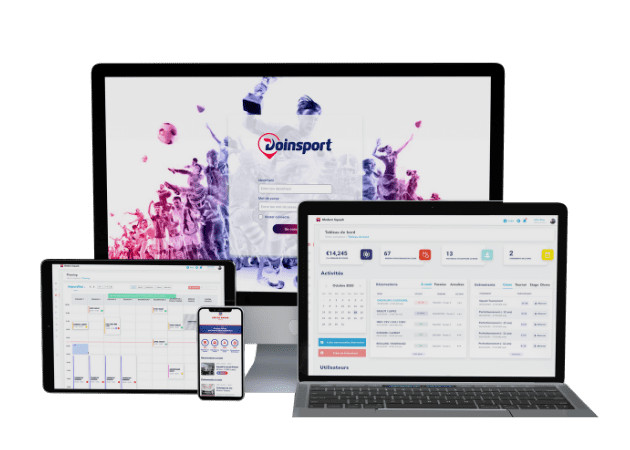 More than 300 complexes trust us

We support the self-employed and franchisees of sport-leisure in France and internationally
Doinsport, a management software for managers of sports complexes
We offer you a complete management of your complex:
Management of your members, players and members
Online booking: app, web, Facebook
Online payments: CB, VISA, Loyalty credits
Flexible planning
NF 525 certified online cash register
Management of sports facilities and associated prices
Marketing module: SMS, Mailings, Push
Monitoring of customer relationship management: CRM
"Pro-shop" online store
Access control
Statistics and KPI monitoring of your complex
Subscription management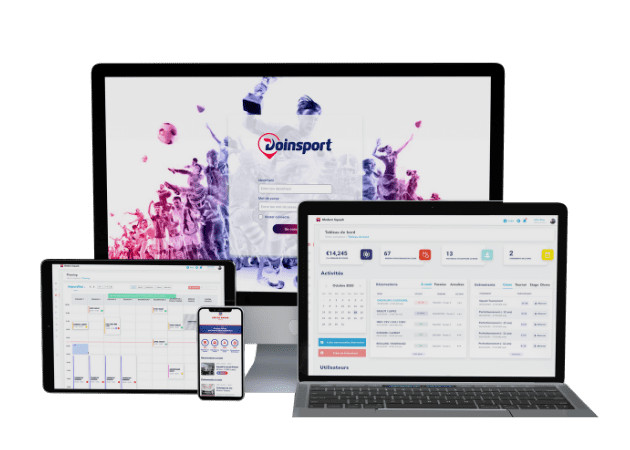 More than just software
Our mission: to support you at every stage of your development. Our team of experts and our knowledge of the market will help you respond effectively to the challenges of your activity.
We create your application
with your graphic charter and your partners
Let's evaluate your project together
Fill in your details and you will be called back in less than 1 hour!
TESTIMONIALS

CLIENTS
More than 300 customers in 5 countries use
Doinsport to facilitate the management of their complex

Everything is perfect: the software for our management, the application for our customers and the support we receive. The whole team recommends!

The La Maison du Squash application automates my reservations, billing, birthday quotes or other business tasks such as managing my pro shop. This makes it possible to welcome my customers calmly and to retain them much more easily.
Thanks Doinsport!

I appreciate the closeness and listening to the Doinsport teams. It was by precisely analyzing my needs that we were able to develop the M Squash application, which fully corresponds to my management. I save time in my daily tasks and it allows me to concentrate on the development of my squash club.

Doinsport designed our Circus Arena white label application for our complexes in Belgium. The support is top notch and the work is quality, we are delighted to collaborate with Doinsport. In addition, software updates and evolutions are included in the package.
I recommend to all my colleagues.

En tant que gérant, mes journées sont bien remplies. Avec Doinsport, j'automatise l'aspect prise de réservations et le téléphone sonne moins. En plus, mes joueurs se mettent en relation sur l'application quand ils cherchent des partenaires, ce qui diminue les annulations de dernière minute.
Vraiment pratique que ce soit pour le foot indoor ou le padel!

Doinsport has developed a reliable, quality application like the All In Academy. Very relevant tool to manage our Tennis and Padel facilities, as well as all courses, academies and special events.

We use Doinsport as a white label in our complexes in Caen and Saint-Etienne.
Instead of using several tools to manage our activity, Doinsport condenses the aspects of reservation, padel collection, customer databases, loyalty, organization of matches and events ...
A real ally on a daily basis!

Doinsport has been able to adapt to the challenges of fitness. Today, the tool streamlines communication between my members and my coaches, they can discuss in real time on a dedicated application, which strengthens ties and increases attendance at the courses offered.
Newsletter
DOINSPORT
By entering your e-mail address, you agree to receive news from the DOINSPORT site and take note of our
Privacy policy